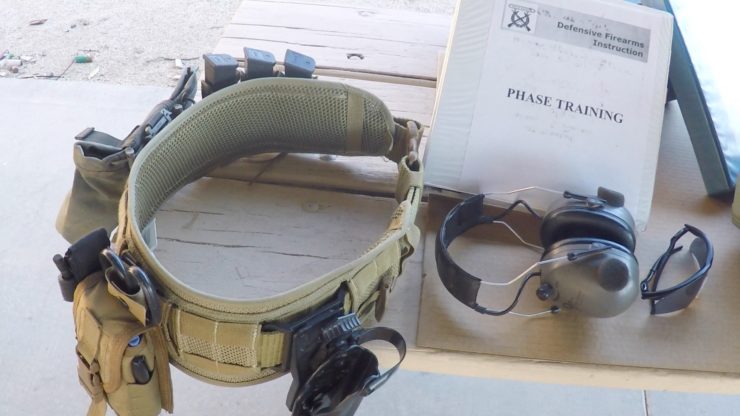 DEFENSIVE IMMERSION PACKAGE II
Description.  This 100-hour course of instruction and training, consists of twenty, 5-hour modules.  It is an advanced amount of initial training.  It is intended for the serious client who desires a comprehensive course of instruction in the use of personal firearms for their defense in a short amount of time.  This will be significantly more than the median amount of deadly force training provided to police recruits…except you will have a personal trainer conducting your instruction.  A personalized and fully tailored Phase Training Manual to extensively document the client's progress, skill level, and specialized knowledge is included.
Goals.  Knowledge of concepts, principles, strategies, and tactics regarding lawful use of force in defense of self and family.
Topics.  Tactical Safety, Fundamentals of Home Defense, Carry of Concealed Weapons (this course will include California mandated training requirements), California Laws of Self Defense, Unconventional Shooting Positions, Introduction to Low-Light Level Shooting, Introduction to Tactical Combat Casualty Care, Introduction to Stress Inoculation and Scenario Training
---
Pre-requisites

Successfully complete the DFI Tactical Pistol Safety Test.

Required Equipment

See Standard Equipment List

Tuition

Includes-Range fees, targets, printed training logs, and written progress reports of each training session.

This package is a tailored training plan focused upon the client's specific and likely needs pertaining to armed defense.  After an in-depth consultation with the client, a detailed proposal of services will be provided for approval prior to commencement of scheduling and training.

Your FSC test and new card, or renewal card if needed, is included.

A $200, non-refundable deposit is required to confirm your training date.  Use the Contact Page to make your training date request and to inquire about tailoring your lesson plan.

Use the PayPal button below for your deposit